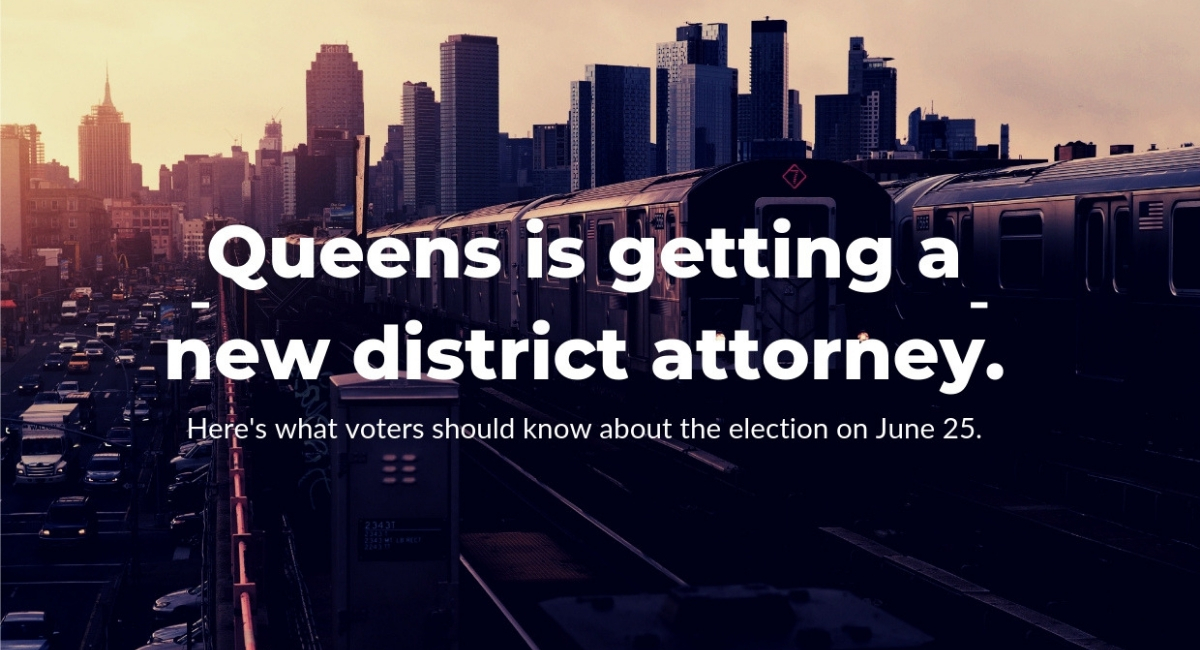 What does a district attorney do?
Every four years, New Yorkers have the opportunity to elect a new district attorney for each borough. This person oversees a staff of prosecutors for their borough and sets agency standards for all of these prosecutors. Their office represents "The People" in criminal court. District attorneys have the power to:
choose which crimes to prosecute in their district

decide whether to charge someone with a crime

decide which charges to bring against someone accused of a crime 

recommend whether someone is held on bail

offer plea bargains

along with defense attorneys, select jury members

influence criminal justice legislation

administer Crime Victims Advocate Fund
Richard Brown, who held the office of Queens district attorney for nearly three decades, died in May. Just a few months before his death, Brown announced he would not seek reelection in 2019, setting the stage for a historic election. Seven candidates are running to replace him, many advocating ideas that could transform the criminal justice system in the borough. The winner of the primary will face attorney Daniel Kogan in the general election on Nov. 5, but the winner of the primary is strongly favored to win in November.
Immigrant rights.
District attorneys can implement policies to take a defendant's immigration status into account when prosecuting them for a crime. In Brooklyn, for example, the D.A.'s office has a policy of seeking "immigration-neutral disposition," which avoids, whenever possible, the deportation or detention of people charged with misdemeanors or nonviolent crimes.
Click on a candidate's name to learn what policies they would implement to protect immigrants. 
Tiffany Caban
"We will work closely with families and officials to advocate to stop deportations. Separating families is cruel and hurts our communities, destabilizing neighborhoods and making crime more likely. We have to protect noncitizens. We will not cooperate with ICE and DHS policy on immigration despite threats on funding. We have to get ICE out of our houses of justice, worship and education. It disrupts and destabilizes our communities, and separating families only hurts the people of Queens."
Melinda Katz
"All defendants are entitled to equal protection under the law, regardless of immigration status. But the threat of deportation and ICE's re-arresting of defendants on immigration charges threatens this protection, creating an unequal system of justice that must be stopped.
As DA, I will seek immigrant-neutral pleas so that an individual's immigration status plays no role in their prosecution, plea bargain or sentencing. All ADAs will be trained on the latest issues in immigration law and offer advice during plea bargaining and sentencing to avoid deportation and other consequences. In those cases where defendants were sentenced before I take office, and are now facing immigration consequences as a result of those adjudications, the office will review all such cases with a view toward consenting to vacate old convictions and permitting re-pleading to immigration neutral offences, except when incompatible with public safety."
Rory Lancman
"I will not ignore the impact of a criminal conviction on an individual's immigration status and will actively use immigration-sensitive charging and plea offers. We will maintain a dedicated review officer to consult on any decision that might have collateral consequences for a defendant's immigration status. This is a core tenet of my campaign — listed on my website from the first day I declared my candidacy and one I have a long history of working on.
In October 2015, my committee held a joint hearing to evaluate compliance with the requirements under Padilla v. Kentucky that attorneys advise their clients on the deportation risk of a particular guilty plea and the general obstacles immigrants face in criminal and summons court. The immigration consequences of even minor crimes have always been at the forefront of my advocacy. I called out the mayor and police commissioner for their initial refusal to acknowledge that a fare evasion conviction counted as a "crime involving moral turpitude" for the purposes of federal immigration law, thus exposing an immigrant — even a legal permanent resident or valid visa holder — to deportation."
Mina Malik
"Call on ICE to stop conducting raids in our courthouses and to revise their priorities so crime victims and witnesses are not targeted for removal proceedings.

Propose notifying all sides when ICE agents are seen so their client's appearance in court can be moved to a different time.

Institute an immigrant hardship plea policy that would take convictions for certain crimes into consideration to avoid unnecessary collateral consequences, such as deportation. When victims of or witnesses to crimes don't feel safe coming forward because they fear retaliation, we are all less safe. We must ensure that all people, regardless of immigration status, are able to report crimes without fear of retaliation or retribution so as not to impact public safety in a negative way."
Jose Nieves
"As district attorney, I will hire a team of immigration attorneys to advise my prosecutors of the collateral immigration consequences of every criminal justice involved individual. In addition, the immigration attorneys will advise witnesses and victims of pending criminal cases regarding their own immigration circumstances and their ability to apply for a U-Visa or other immigration status adjustment based on their involvement in the criminal matter. Lastly, I will pen a policy that will prohibit any staff of the Queens district attorney's office from providing information to ICE regarding any pending matter being investigated or prosecuted by our office."
Gregory Lasak
Gregory Lasak has not yet responded to request for comment.
Betty Lugo
Betty Lugo has not yet responded to request for comment,
Cash bail.
To make sure someone returns to court for their next hearing, a prosecutor will sometimes ask a judge for bail. Bail is money paid by a defendant, which is returned once that person appears for their hearing. But if someone cannot afford their bail, they are put in jail. Starting in 2020, judges will no longer be able to set cash bail for most crimes, but there are some exceptions. Although it is ultimately up to a judge, the district attorney's office has the power to ask all of their prosecutors to stop asking for cash bail in more cases.
We asked the candidates: Are there any cases in which you would request cash bail?
Tiffany Caban
"No. I would also advocate for codification of the following: ending cash bail, requiring that judges impose the least restrictive release conditions, implementing prompt automatic bail reviews and using assessment tools free from discrimination. These reforms are necessary to dismantle our current system of mass incarceration."
Melinda Katz
"No, I believe we must end cash bail in all instances."
Rory Lancman
"I will not ask for cash bail or bond, at all. It just leads to people sitting on Rikers Island, for want of a few hundred or a few thousand dollars. It then perpetuates people being exploited by the predatory bail bond industry. On top of that, it becomes an extraordinary burden to taxpayers. Cash bail needs to be completely eliminated."
Mina Malik
"We should not be putting people in jail simply because they are poor, ever. I will decline to ask for cash bail beginning on day one as Queens district attorney. In the case of true flight risk, cash bail would be an option if requested by the defense, but my preference in cases where the options would be remand or monitoring would be to use supervised release or the least restrictive means necessary."
Jose Nieves
"I will direct my assistant district attorney not to request cash bail on any felony or misdemeanor offenses."
Gregory Lasak
Gregory Lasak has not yet responded to request for comment.
Betty Lugo
Betty Lugo has not yet responded to request for comment,
Wrongful convictions.
District attorneys can set up units within their offices tasked with re-investigating cases. Wrongful conviction units have helped uncover wrongdoing by law enforcement officials and have freed innocent people.
We asked the candidates: Will you commit to establishing an independent wrongful conviction unit to review past convictions in Queens County?
Tiffany Caban
"Yes. My wrongful conviction unit would not be limited to reviewing claims of actual innocence in felony cases, and I would extend its authority to review cases where there may have been violations of due process, corrupt police practices, reliance on bad science/forensic methods, and excessive sentences. In an effort to expand resources, I would partner with local law schools. This unit would also keep data that could later be used to identify the origin of these problems and inform new policies to prevent these wrongful convictions from occurring in the first place."
Melinda Katz
"Yes. Across the city and country, advances in DNA technology and other investigative tools have led to many wrongful convictions being overturned.
I will work with defense attorneys, family members and community leaders to determine what cases may demand further review, and establish a Conviction Integrity Unit to examine cases and make recommendations for exoneration. Wrongful convictions are a national concern, and new models show the way for doing it properly to ensure that justice is truly served. Every wrongful conviction not only destroys the life of the individual wrongly convicted and his or her family, but also further undermines everyone's faith in our criminal justice system."
Rory Lancman
"I will establish an independent wrongful conviction unit to review prior convictions in Queens County, staffed by attorneys hired from outside the current office, working solely on wrongful conviction unit cases, and overseen by an independent outside advisory board.
My committee conducted a hearing on wrongful convictions in September 2016. I'm proud of our role in advocating for reforms to custodial interrogation videos, and line up and picture ID procedures (which were subsequently adopted by the Legislature), and I secured over $400,000 in this year's budget for the Staten Island D.A. to launch its own wrongful conviction unit."
Mina Malik
"Yes, I plan to establish a Conviction Review Unit, similar to the one I helped design in Brooklyn, which is the gold standard. This unit will be fully staffed with attorneys and investigators, and will examine actual innocence as well as miscarriages of justice. I have deep experience in this area. I was brought on by former Brooklyn County Attorney Ken Thompson to help build a meaningful Conviction Review Unit. This unit has since become the national model for exonerations."
Jose Nieves
"Yes, I will create a Conviction Review Unit independent from the Appeals Division and an advisory board comprised of criminal justice organizations such as the Innocence Project and Brennan Justice Center and those individuals that were wrongfully convicted and incarcerated by the Queens district attorney's office."
Gregory Lasak
Gregory Lasak has not yet responded to request for comment.
Betty Lugo
Betty Lugo has not yet responded to request for comment,
Raise the age. 
In 2018, New York enacted a law that raised the age of criminal responsibility to 18 years old. Previously, 16- and 17-year-olds were automatically prosecuted as adults. But the district attorney's office can sometimes decide to try a case in criminal court rather than Family Court.
We asked the candidates: Will you decline to prosecute youth as adults and remove all eligible youth arrests to Family Court?
Tiffany Caban
"Yes. We will also refuse to file delinquency petitions for kids whose nonviolent conduct would be a misdemeanor if committed by an adult. We will also never file a delinquency petition for a child under 12. We will never recommend a sentence above four years confinement for conduct committed before age 18, since that is the maximum sentence a kid can receive under the Youthful Offender law, which we will advocate to improve."
Rory Lancman
"I will decline to prosecute 16- and 17-year-olds as adults to the fullest extent allowed by law, in consultation with defense counsel."
Mina Malik
"As much as possible, we should keep minors and young, first-time offenders away from the criminal justice system and use alternatives to incarceration. I would consent to removal of all eligible cases under the law to Family Court, and I would advocate for changes to the law to all other categories to be removed to Family Court. Given the science around the developing mind of adolescents, I would consider advocating for changes to the law to allow other categories of cases to be removed or to originate in Family Court for those 18 years and older, in conjunction with data that would show this method to be more effective in reducing recidivism and increasing rehabilitation."
Gregory Lasak
Gregory Lasak has not yet responded to request for comment.
Betty Lugo
Betty Lugo has not yet responded to request for comment,
Police accountability. 
The New York Police Department has a lot of power within the criminal justice system, but the district attorney's office can act as a check on that power by investigating and prosecuting police who break the law.
We asked the candidates: Will you create an independent unit within the Queens district attorney's office to investigate and prosecute NYPD misconduct?
Tiffany Caban
"Yes. We will investigate and prosecute officer misconduct, including but not limited to corruption and perjury. I will work to create an independent prosecutor to hold police officers accountable. I will also work to publish the existing list of officers who are demonstrably unreliable under appropriate due process. We must make it untenable for bad officers to remain employed."
Melinda Katz
"I believe it is a core responsibility of the D.A.'s office to investigate and prosecute police misconduct; and I have previously stated that I will prosecute perjury by police when it occurs. I believe that a good D.A. can do these things by committing adequate resources and support for such prosecutions, with or without an independent unit."
Rory Lancman
"I strongly believe in holding police officers accountable for violations of the laws they have sworn to enforce, and that includes establishing an independent unit within the Queens district attorney's office to investigate and prosecute NYPD misconduct."
Mina Malik
"I would create a Civil Rights & Integrity Bureau in the D.A.'s Office that reports directly to the district attorney. Its focus would be investigating and prosecuting law enforcement officers when they commit misconduct, in addition to providing support for their victims.
As the former executive director of the CCRB, I successfully reformed and led a city-wide agency tasked with investigating and prosecuting allegations of police misconduct including excessive force and abuse of authority. During my tenure, our substantiation rate increased overall because of improved investigations, including those involved in several high-profile, sensitive cases such as Eric Garner, Atlanta Hawks player Thabo Sefolosha and tennis pro James Blake."
Jose Nieves
"I will create a Civil Rights Bureau that will specifically investigate and prosecute police brutality and excessive force incidents. In addition, I will reorganize and refocus the Public Integrity Unit to investigate and prosecution allegations of police corruption, perjury and false official statements."
Gregory Lasak
Gregory Lasak has not yet responded to request for comment.
Betty Lugo
Betty Lugo has not yet responded to request for comment,
Economic justice. 
The district attorney's office runs an Economic Crimes Bureau, which investigates and prosecutes financial crimes. In other boroughs, district attorneys have used their power to crack down on crimes like wage theft and construction fraud. District attorneys also have the power to prosecute crimes like illegal eviction and corruption.
Click on a candidate's name to learn how they will approach financial crimes.
Tiffany Caban
"There is a place for the existing Economic Crimes Bureau in my office, but it would be overhauled. This bureau handles areas that affect Queens families, including our community's children. For example, some of the issues that the Economic Crimes Bureau have overseen include illegal dumping of construction materials in community athletic fields as well as credit card fraud that targets our most vulnerable. This bureau has also seen its resources go towards continuing to oppress historically marginalized communities. It has engaged in prosecuting employees 'embezzling' small amounts of money from abusive employers (whose abusive practices may include mandatory overtime, unsafe work conditions, wage theft, denial of sick leave, etc.), rather than prosecuting the employers themselves. Additionally, prosecuting NYCHA residents, who are predominantly people of color, for allowing family members to stay in their apartments is a gross misuse of resources. I would change the focus of the bureau and how resources are expended, focusing instead on abusive employers, foreclosure and mortgage fraud and other crimes that significantly impact our most vulnerable communities."
Melinda Katz
"I have no tolerance for those who try to bend the rules or exploit loopholes for their own personal financial gain. Our system doesn't take white collar crime as seriously as other crime must be treated, but when I am the district attorney we will treat these as the serious and harmful crimes they are, and my office will prosecute them to the full extent of the law — be they unscrupulous landlords, employers who steal wages or create unsafe working conditions, or unscrupulous developers who engage in predatory home practices."
Rory Lancman
"As currently organized, the Queens DA's Economic Crimes Bureau should be prosecuting the rampant wage theft, mortgage and deed fraud and tenant harassment that exists in Queens — but it doesn't. It says almost everything one needs to know about the sad state of the office's white collar crime operation that the Economic Crimes Bureau website seems not to have been updated in 15 years, and devotes more attention to efforts to combat 'Nigerian credit card fraud,' highlighting a prosecution from 1995, than anything else.
As the economy of Queens has grown to include more financial, healthcare and technology companies, the D.A.'s white collar unit hasn't kept pace to ensure compliance with laws protecting investors, depositors, borrowers, consumers, homeowners, tenants and workers. My office will ensure these issues are made the focal points."
Mina Malik
"Right now, the Queens district attorney's office has an Economic Crimes Bureau, but it doesn't focus on the major crimes affecting working-class residents of Queens: wage and tip theft, abusive and unsafe workplace practices and employer negligence that puts our workers and families in danger.
I would drastically reform the Economic Crimes Bureau to address these crimes. I would also hire community affairs and other employees who are in touch with the diverse and working-class communities of Queens so that we can be attuned to where these crimes are happening."
Jose Nieves
"I believe that the Economic Crimes Bureau can be an important part of the mission and work of the Queens district attorney's office. I do not believe that the current focus of that bureau is consistent with my law enforcement priorities and criminal justice reform ideals.
I do not agree with the aggressive prosecution of licensed livery cab drivers who seek fares at LaGuardia and JFK airports. The Economic Crimes Bureau has unfairly prosecuted livery cab drivers for trespass. These individuals are TLC licensed and authorized to operate as a livery cab and should not be harassed by the NYPD or D.A.'s office for legally pursuing their occupation. These cases are best left for administrative or civil enforcement by the appropriate government agency."
Gregory Lasak
Gregory Lasak has not yet responded to request for comment.
Betty Lugo
Betty Lugo has not yet responded to request for comment,
Marijuana expungement.
Last year, Brooklyn District Attorney Eric Gonzalez began expunging the records of people with low-level misdemeanor marijuana convictions, giving these people a chance to wipe their records clean. But the process can be laborious: First, a person needs to understand their right to have their record expunged and request a dismissal. Then, the district attorney's office can grant these requests one by one. In other cities, district attorneys have automatically expunged the records of anyone convicted of a low-level offense.
Click on a candidate's name to learn about their stance on automatic record expungement for marijuana convictions.
Tiffany Caban
"Automatic expungement is the best solution to getting people out for marijuana convictions. Those convictions cause so many barriers to successful reentry. From housing to employment, people's ability to meet basic needs are hurt by these records. People should not be punished beyond their sentence, let alone for such systemically biased prosecutions as marijuana misdemeanor convictions. Even though roughly a third of New Yorkers across all races use cannabis, about 86% of marijuana arrests are people of color. We must stop arresting and prosecuting marijuana-related incidences, and we must work to release and clear records of folks who have been victimized by the broken system with marijuana-related convictions."
Melinda Katz
"Expunging and sealing records is of paramount importance to individuals' being able to move forward, which is why at the borough president's office I have sponsored events to aid and assist in sealing records."

Rory Lancman
"Ideally, marijuana legalization should not happen without automatic expungement, but in the absence of that, my office will do its part to expunge records in Queens to the fullest extent allowed by law."
Mina Malik
If elected, I would you commit to automatic record expungement for Queens residents with misdemeanor marijuana convictions.
Jose Nieves
If elected, I would you commit to automatic record expungement for Queens residents with misdemeanor marijuana convictions.
Gregory Lasak
Gregory Lasak has not yet responded to request for comment.
Betty Lugo
Betty Lugo has not yet responded to request for comment,
District Attorneys can also choose which crimes they punish. Several candidates have said that they would decline to prosecute these crimes:
May 31
Last day to register.
June 18
Last day to request an absentee ballot.
June 24
Last day to vote absentee.
June 25
Election day. 
Countdown to the primaries
Online 
You can register online through the DMV.
By mail 
To register, fill out this form and mail it to:
New York City Board of Elections
32 Broadway, 7th Fl.
New York, NY 10004
(You will need to use your own stamp)
From jail 
If you are in jail, you can get a registration form through your law library. Once you've filled it out, a law library coordinator will deliver it to the Board of Elections for you.
TIP: If you are registering for the first time, you will need to provide additional identification either on or with the voter registration application, i.e., driver's license number, non- driver's ID number or the last four digits of your social security number.
Find your polling place. To vote in person, you will need to show up at the correct polling location on election day to cast your ballot. Find your polling place here.
Make sure you are registered. Election officials will look up your address to ensure you are at the right location and direct you to your district's table.
Fill out your ballot in a voting booth. A poll worker will give you a ballot and a privacy sleeve once you sign your name. They will direct you to a booth where you will be given a pen to fill out your ballot.
Fill in the oval completely for your preferred candidate. Do not use an "X" or "✓" or circle the oval. Do not write your name or fold your ballot.
Scan your ballot. Once you've filled out your ballot, take it to a scanner area. You can insert your ballot in any direction.
TIP: If you feel your voting rights were violated, call (866) OUR-VOTE for help.
TIP: New York guarantees you the right to take off work to vote. Polls are open between 6 a.m. and 9 p.m. If you don't have at least four consecutive hours before or after work to vote, New York law requires your employer to give you at least two hours to vote without loss of pay as long as you notify them within two to 10 days.
This voter guide was compiled and designed by Beatrix Lockwood, a masters candidate in Social Journalism at the Craig Newmark Graduate School of Journalism, where she is focused on community-engaged criminal justice reporting. Beatrix sourced the candidate questionnaire topics through interviews with people in Queens directly affected by incarceration and the organizations that work closely with them. The answers were taken directly from campaign spokespeople and edited for grammar and clarity. A print version of this guide is also available and will be distributed across the borough, including on Rikers Island, where Beatrix and her classmates will visit to help people understand their voting rights and prepare to vote in this historic election.
*Correction: An earlier version of this voter guide said there were no Republicans running. Daniel Kogan, an attorney with a law office in Ozone Park, is running on the GOP ticket. We regret the error. 
If you are interested in receiving copies of the print voter guide for your organization, please email Beatrix at [email protected]